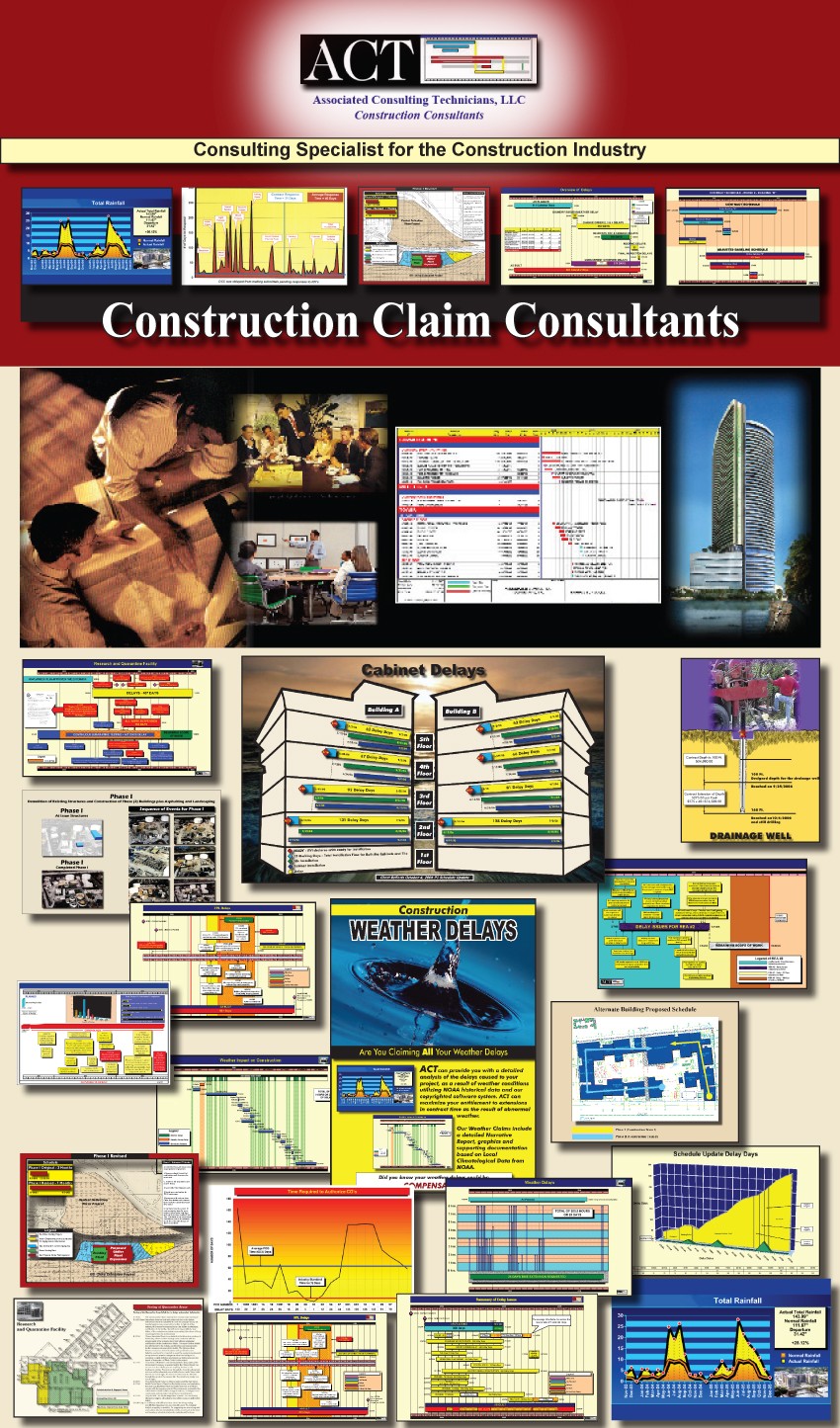 ACT's professionals provide claims consulting services to the construction industry. Our claims consultants are specialists in the resolution of contract, insurance and surety bond related claims and disputes that arise from the design and construction of major capital projects. 
Our construction claims consulting services are provided to Owners, Contractors, Subcontractors, Sureties and Law Firms in support of negotiation, mediation, arbitration and litigation proceedings. These services focus primarily on the evaluation, preparation and analysis of construction related claimns as well as on the resolution of those claims. ACT and its professionals are committed to providing you with the services you require to obtain the results you desire in a timely manner and at a cost effective price.
We can assist in the preparation, presentation and evaluation of all types of construction claims and disputes. Our construction claims serives include:
• Claim Evaluation, Preparation & Resolution
• Scheduling, Including:
          • Critical Path (CPM) Sheduling
          • Schedule Development
          • Schedule Status/Update/As-Built
          • Schedule Delay Analysis
• Damage Quantification/Evaluation
• Disruption/Impact Analysis
• Productivity Anaylsis
• Design/Construction Performance
• Risk Evaluation/Analysis
•  Construction Defect Analysis
• Computer Applications/Trial Graphics/Multimedia Presentations
• Litigation, Arbitration & Mediation Assistance
ACT's construction consultants have extensive experience in both private and public projects. Active project skills include estimating, project services, scheduling, cost accounting, cost control and procurement. Our consultant team has assisted clients with the successful resolution of hundreds of claims.
ACT has a broad understanding of the legal aspects of contract disputes and an experienced team with the neccessary skills to obtain a successful resolution. Whether the forum is negotiation, arbitration or litigation, we have the proven ability and expertise to present your claim in a clear and persuasive manner.
We are nationally recognized for our proactive approach in addressing disputes. We use practical ad court tested approaches to analyze changes, delays, acceleration, inefficiencies, damages and other issues that may be in dispute. Our clear, concise reports with in-depth supporting documentation., offer an objective appraisal of our findings, essential to effectively settling the dispute.
ACT provides expertise in the following areas:
• Problem Identification
• Cause and Effect
• Document Control
• Schedule Analysis
• Damage Analysis